It Takes Courage to Write Your Own Story
Meet the people of Sentara. Their stories are who we are. 
YOU ARE MORE THAN A JOB TITLE.
Who you are and what you care about matters just as much as what you do. At Sentara, we embrace the unique perspectives of our colleagues because we know our individual diversity is our collective strength
At Sentara, our unique skills are respected, our whole selves are supported, and our voices are heard.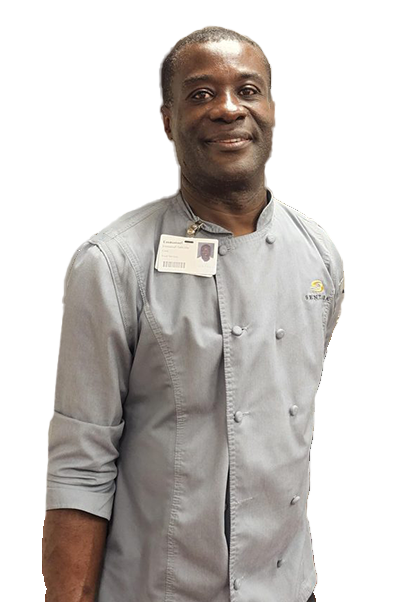 When Emmanuel Sarkodie moved from Ghana to the United States in 1996, he was seeking new opportunities. He had spent his life learning from his mother, who cooked for 10 high schools in Ghana, and chose to follow her path of helping people in her community through food.
Emmanuel was first working at a local prison as a cook when he visited a patient at Sentara Northern Virginia Medical Center (SNVMC), which at the time was still named Potomac Hospital. He says he was just in the right place at the right time when he happened to see a job posting and decided to apply. That visit shaped the 24 years of his career.
Continually inspired by his mother, Emmanuel cooks breakfast and lunch for team members, patients and families at SNVMC—nearly 500 meals per day. To provide for specific patient needs as well as cultural preferences, he often prepares up to 20 variations of each meal.